Anti-Aging Medicine
Papers presented at International Seminars, Conferences, Tutorials, Workshops, Masters Courses for IMCAS, ISAPS, IAAPS, A4M - American Academy of Anti-Aging Medicine, Orlando, Florida, April 2009 and San Jose, California, September 2009.

Medical Tourism
Download Word doc file - Guide for Tourist wishing to .
visit Mumbai (Bombay), India for Health Care.
What Every Man Should Know About Andropause
(Male Hormone Imbalance)
Healthy Vacation
Destination: Mumbai
(Bombay), India
Goal: Perfect Health / Body
Treatment: Low Cost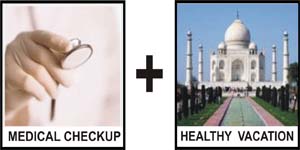 Complete Preventive Health Check Up.
Whole Body Detoxification and Rejuvenation. Root Cause Investigation, Diagnosis and Treatment offered for all Chronic Health Challenges. Herbal (Modern Ayurvedic) + Intracellular Nutritional Treatment for all Cardiac Problems, Diabetes, Thyroid / Hormonal Imbalance, Hypertension, UTI, Body Aches / Pains, Arthritis, Obesity, PCOD, Fibroids, Migraines & Kidney / Prostate Diseases.
Anti-Aging Medicine for all age groups.
Programs to Boost Immunity offered for Hepatitis, Herpes, HIV / AIDs & STD / STI.
Medical "Mission Impossible" is welcome.
SpaceAge Natural Health Center
Tel: +91 - 22 - 2852-6564 (10:00 am to 5:00 pm)
E-mail: consult@space-age.com
Info: http://www.space-age.com/MedTour.pdf
Combine Vacation with your
Quest for Perfect Health & Body

Life of a Hormonally Imbalanced Person
(equally applicable to Males also)

Superiority of our Naturally formulated
Bio-identical Hormone Gels over BHRT Cream


To place an order for Bioidentical Hormones and other Anti-Aging Options
or please e-mail:
sales@space-age.com
your complete:
1. Bill To Address:
2. Ship To Address:
3. Telephone No and conveninet time to call you
for order verification and payment details.

9/123 Marol Co-operative Industrial Estate
Marol Sag Baug, Andheri (East)
Mumbai 400 059
India
Tel: +91 - 22 - 2850-3986 / 2850-8653
Tel: +91 - 22 - 2852-6564 (Appointments / Consultations)
Fax: +91 - 22 - 2850-6214
www: http://www.space-age.com
E-mail: consult@space-age.com