MICROSCOPIC VIEW OF RED BLOOD CELLS
---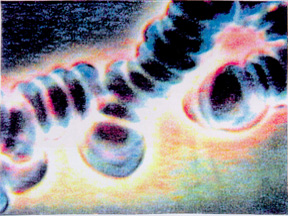 WITHOUT MAGNETIC FIELD
Note the red blood cells travel in clusters: typical of fatigue, stress or health problems.. present in most people in varying degrees.
---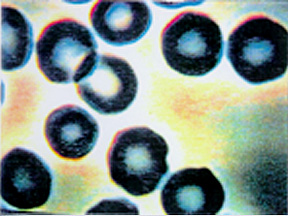 WITH MAGNETIC FIELD
The supplementry magnetic field of SpaceAge Bio-Magnetic products influences the iron in the blood cells, spins the cells around and points them in one direction,This alignment or polarization of the red blood cells allows the cells to repel each other and frees up much more surface area to carry oxygen and release more carbon dioxide.
---

Return to Bio-Magnetic Bracelet (Page 2).

Return to Bio-Magnetic Face Mask (Page 2).

Return to Product List.