Health & Beauty Care - Naturally !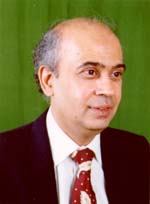 Pramod Vora is an advisor to the medical profession and a personal coach to doctors in Modern Medicine.
Pramod Vora is an internationally renowned health counselor from California, USA who has successfully counseled thousands of patients, including celebrities and hundreds of medical doctors guiding them towards perfect health.
He has assisted the medical profession by drawing up protocols of treatment for their patients based on Root Cause Investigation and Diagnoses and offers a drugless therapy with special emphasis on therapeutic foods.
Telephone Consultations for Root Cause Investigation and Diagnosis:
$75 for 30 minutes. Available internationally.
Timings: 6:00am - 10:00am PST and 6:00pm - 10:00pm PST

1) Click here to fill out secure questionnaire prior to telephonic consultation.
2) Click here to securely provide credit card information.
DOWNLOAD
"A New Approach to Natural Heath & Beauty Care for the Millenium" [Word Document]
"What Every Woman Should Know About Hormone Crash" [Word Document / Adobe Acrobat]
"What Every Man Should Know About Andropause (Male Hormone Imbalance)" [Word Document / Adobe Acrobat]
Questionnaire for Consultation [Word Document / Adobe Acrobat / Secure Online]
Testimonials [Click Here]



Email: spaceage@space-age.com
Internet: http://www.space-age.com