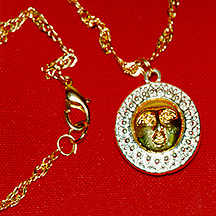 DISCOVER The Beauty & Healthful Benefits of the Amazing Bio-Magnetic Thymus Pendant.
---
Pendant is two tone 24Kt Gold & Silver Finish.
Chain included. Unisex Design.
Sizes: Small, Medium & Large.
Made in U. S. A.

Enjoy the SpaceAge innovation of Bio-magnetic phenomenon. The Magnetic Field of the Thymus Pendant enhances the body's immune system. Hundreds of thousands have been sold with amazing results.

Used in Europe to help fight: Colds, Sore Throats, Chronic Tonsilities, Cancer & dreaded AIDS infection.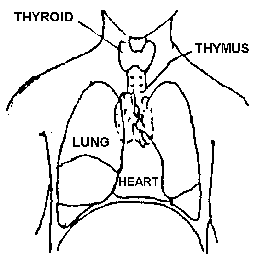 THYMUS: A gland located in the upper chest that produces T-cells essential to develop the body's immune response.

---

---
SPACEAGE INTERNATIONAL

E-Mail:
spaceage@space-age.com
---
THE PENDANT SHOULD BE WORN ON THE THYMUS GLAND, AND IT IS RECOMMENDED COLORLESS NAIL POLISH BE APPLIED OVER THE MAGNET MONTHLY TO PROTECT IT FROM THE ACID IN YOUR SKIN.
NOT TO BE WORN BY PREGNANT WOMEN OR PERSONS FITTED WITH PACEMAKER.
---

Return to Product List.