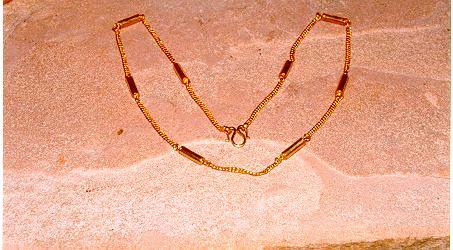 18Kt. Gold Bio-Magnetic Necklace in

traditional Yellow Color

Magnets have been widely used from ancient Greece to Egypt (Queen Cleopetra wore one) as far as China, India and Russia. The present day revival of Magnetic Health Care can be attributed to research done by NASA. Astronauts were found to be suffering from various ailments when they returned back to Earth after a prolonged absence form the Earth's Magnetic Field.

Dr. R. T. Jacobs in his "Bio-Magnetics Manual" writes: "Now you have a chance to experiment with the world's most incredible magnetic products and discover for yourself the mystery and miracle of magnetism; the amazing effects of magnetic energy that can bring relief from aches, pains, physical and aging problems. The changes in your life will astonish you. You will look great and feel even better. Let the amazing power of permanent magnetism reverse your problems with pain, inflammation and swelling today and tomorrow you will appreciate the miraculous and mysterious powers of conventional magnetic energy."

We at SpaceAge offer the finest quality Magnetic Products, using the highest quality components. Our Products are designed and

are exclusively manufactured by SpaceAge using High Energy, deep penetrating and wide area Magnets especially designed for Therapeutic use. These Products are offered for enhancing a state of well being. SpaceAge custom designs Products to suit your particular requirement.

Welcome to the world of SpaceAge Bio-magnetic Health Care Products.

BIO-MAGNETIC GOLD NECKLACE

- 18 Kt (yellow color)

18" long, 18 gms. / 24" long, 24 gms.

Retail Price: $ 598/- for 18" ("46 cm) long & $ 798/- for 24" (61 cm) long, each

"Magnetic Necklaces can be worn throughout the day for constant biological effects on the circulatory, nervous and endocrine systems of the body. Magnetism is known to increase the electrical conductivity of the blood increasing the quantity of the ions and significantly contributing to the efficiency of the blood flow. The red blood cells contain hemoglobin which contains the ferrous paramagnetic material, iron. Hemoglobin functions to carry oxygen to and carbon dioxide away from the cells.

When one wears a magnetic necklace the blood circulating through the carotid arteries and jugular veins passes through the stationary magnetic field of the necklace. The resultant fully magnetized ferrous hemoglobin is able to transport more oxygen from the lungs to the cells and carry more carbon dioxide waste from the cells back to the lungs for excretion. This results in more body energy and less fatigue as the cells, tissues and internal organs stay substantially healthier. " - by Dr. R. T. Jacobs.

Dr. R. T. Jacobs, in his new "Bio-Magnetic Manual" writes that prolonged exposure to magnetic energy field has kept plaque from forming on his arteries thereby eliminating the need for expensive bypass surgery. "Magnetic necklaces are presently being worn to help dissolve plaque formation in the carotid arteries of several people of whom I am aware. Experiment with it and see what it can do for you."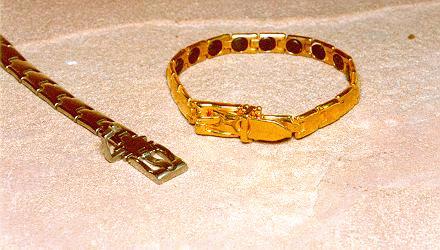 18Kt. Gold Bio-Magnetic Bracelet in traditional
Yellow, White or Rose Color
"Magnetic Bracelets work similarly to the necklaces. The magnetic fields of the Bracelets contact the distal ends of the radial and ulnar arteries as well as specific acupuncture source points in the wrist that have a direct connection to their corresponding organs. Pain or inflamation of the wrist or hand, including carpal tunnel can be relieved." - by Dr. R. T. Jacobs.
BIO-MAGNETIC GOLD BRACELET - 18 Kt (yellow, white or rose color)
8" (20 cm) long, 35 gms. (approx.)
Retail Price in USA: $ 1398/- per piece
SpaceAgeÔ Jewellery
9/123 Marol Co-operative Industrial Estate
Marol Sag Baug, Andheri (East)
Mumbai 400 059
Tel: (+91-22) 2850-3986 / 2850-8653
Fax: 2850-6214

E-mail: spaceage@space-age.com
Internet: http://www.space-age.com/
INNOVATORS IN HEALTH CARE GOLD JEWELLERY !